1965
Halifax Fan was established in 1965 and launched with this 'retro' logo. It's gone through some facelifts since.
1969
Founder David Scott explains the layout of the new bigger factory in Brighouse to his management team.
1970
The style of the advertising isn't the only thing that's changed. The quality and reliability of Halifax fans is as high as ever but fan efficiency is even higher with the use of today's computer based design and manufacturing tools.
1970
The message may seem corny but regular customers still buy from Halifax Fan because all their fan problems have been blown away.
1970
No-one takes a flyer when they buy their fans from Halifax Fan. Quality, reliability and efficiency are guaranteed. Some fans have lasted a lot longer than some of the aircraft did – but our fans don't take any flak.
1971
Make sure no-one is trapped inside before you button it up Dave.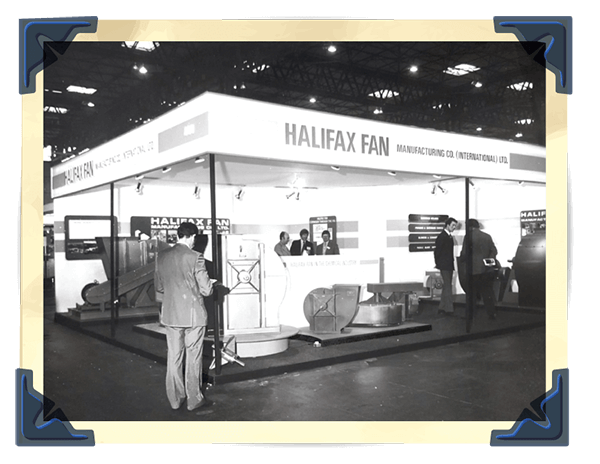 1979
The doors open in 6 minutes and our stand will be flooded with customers ... I hope!
1980
Just another 14 motors to fit for this job then it's off for the weekend.
1980
They better have ordered up a big enough truck for this big boy to get it to the docks.
1982
Maybe one day my computer will have a bigger screen, maybe even in colour. Nah! Stop dreaming and crack on with this job.
1990
Thinks David Scott, "I'll be glad to get these local councillors out of the way and we can finish building this fan and get it shipped and invoiced"
1993
I wasn't sure what the foreman meant when he said he was giving me a well rounded job.
1994
I wonder if that Sinclair calculator thingy would be better than my old slide-rule?
1994
"I think they've stopped looking for me, should I not be in the line-up too?"
1995
Get this lot on the way to the exhibition and I can get home to watch my huge new 21" black and white TV.